Benet Wins St Hildegard House Award For Academic Endeavour And Attainment ​​​​​​​
30 Jan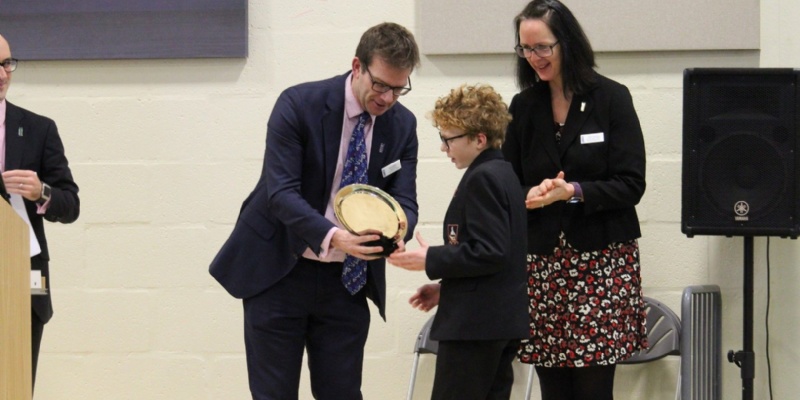 Benet House is this year's recipient of the St Hildegard House Award for Academic Endeavour and Attainment, an award that celebrates the effort and attainment of pupils in each and every class across the school.
Taking its name from St Hildegard von Bingen, a visionary Benedictine nun who was declared a 'Doctor of the Church' by Pope Benedict XVI in 2012, the St Hildegard award is presented annually to the House that receives the greatest number of Endeavour and Teacher Awards.
Deputy Head - Academic, Dr Michael Reddish, commented, "The school places the commitment to be kind and do your best at the forefront of all it does and acknowledges and celebrates these values in a whole host of ways, including systems of merits and rewards. Twice a year, in the Trinity Term and the Michaelmas Term, we present Endeavour Awards and Teacher Awards to recognise pupil academic effort, attitude and attainment."
In the last year 1,862 Endeavour and Teachers Awards have been presented to pupils and in the whole school assembly on Monday 28 January Dr Reddish revealed the final House totals. Michaelmas top award winning pupil, Year 7, Jack Dando, who himself received nine awards, was invited forward to receive the trophy on behalf of Benet House.
Dr Reddish added, "This year we had a number of pupils who won multiple awards, but every award contributes equally to the overall House totals. The final results were very close with just 24 points between 1st and 3rd place. I hope that spurs all our pupils on to greater endeavour and achievement."
A list of the top Michaelmas 2018 award winners is attached below.