Freshers' Fair Allows Year 11 To Explore Life In The Sixth Form
24 Jan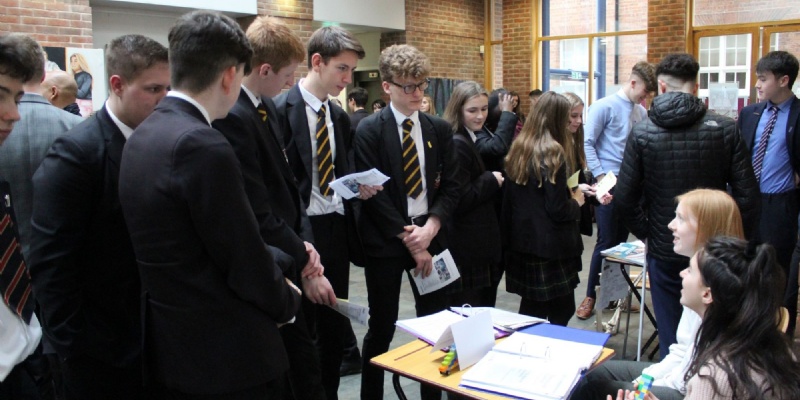 The Year 11s Freshers' Fair took place on Thursday 24 January and offered another opportunity for Year 11 to explore life in the College's Sixth Form and consider their A-level subject choices.
Set out in the Sixth Form Centre Atrium were a host of subject stalls with vivid displays, models and informative handouts, all manned by enthusiastic Sixth Form Subject Ambassadors and teachers. Pupils had the chance to wander freely, to visit the different stalls for the subjects they are considering studying and to ask any questions they might have.
The Year 11s were also given the opportunity to visit the Sixth Form Resource Centre and Common Room to get a feel for some of the wider Sixth Form facilities. Sixth Form pupils and staff gave presentations on what life was like in the Sixth Form including information on the many enrichment and leadership opportunities available and the different sorts of support.
Orchestrated by Head of Sixth Form, Ben Collie, the fair will have helped facilitate Year 11s decision making process.
Commented Ben Collie, "Some Year 11s already know what subjects they want to study at A-level but others are less sure. The Freshers' Fair was an opportunity for pupils to speak with students already studying the subjects, as well as a chance for them all to come into the Sixth Form Centre on a busy school day."