Princethorpe Pupils Rise To The Senior Mathematics Challenge
01 Dec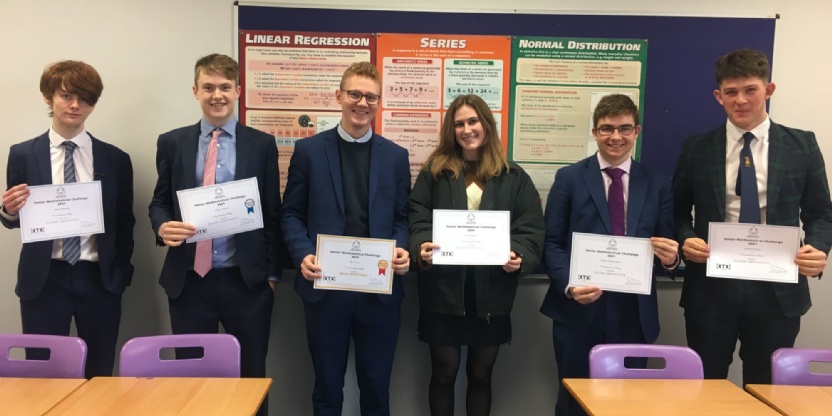 In November pupils from Princethorpe College took part in the 2021 UK Mathematics Trust (UKMT) Senior Challenge, a prestigious national problem-solving competition that recognises the best young mathematicians in the country.
The Challenge involves answering multiple choice questions and is sat under normal school exam conditions. The papers are then sent away to be marked by UKMT and the best pupils in the country are awarded Bronze, Silver or Gold certificates. The competition is aimed at students in the Sixth Form and Princethorpe selected 28 able mathematicians from both Lower and Upper Sixth to participate in this year's Challenge.
It is a demanding exercise designed to stretch and test pupils' mathematical skills, so the College is delighted that this year, Princethorpe's mathematicians achieved exceptional results. Congratulations to Upper Sixth Former, Ben Scares who was awarded a Gold certificate, and took the award for best performing student in school, and to Lower Sixth Former, William Hawkins, who was awarded a Silver certificate, and took the award for best performing student in the Lower Sixth. Ben performed so well that he has also qualified for the follow-on round, the Senior Kangaroo Challenge.
Silver certificates also go to: Joshua Rawlings, William Gibson-Sexton, Caitlin Mason, Edward Sharpe
Bronze certificates also go to: Tobias Lambe, Alex Hill, Pablo Scopes, Henry Walker, Mary Lomas, Anthony Convey, Jack Rochford, Ciaran Smith, Tom Spencer, Alexander Allison, Robyn Field
Well done all and many thanks to all the pupils who took part, we hope you enjoyed the challenge.