College Stars To Perform A Super Virtual Spectacle of Jesus Christ Superstar
04 Feb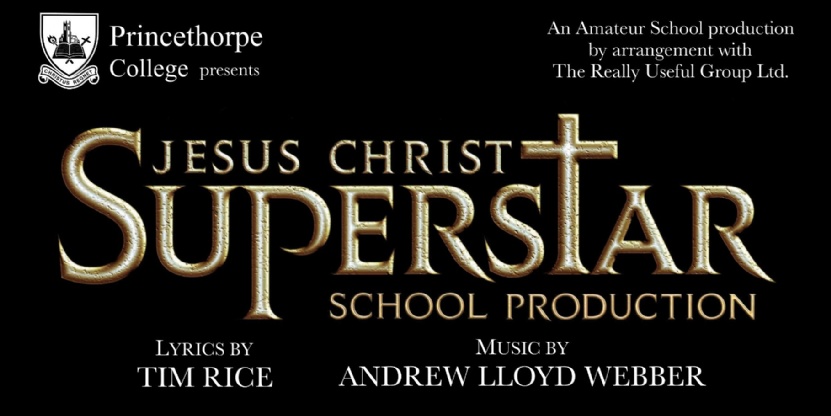 Every year the Performing Arts team at Princethorpe College works tirelessly to stage a superb musical production. Who can forget the success of We Will Rock You, Little Shop of Horrors and Arabian Nights to name just a few of the fabulous productions they have staged in recent years?
First trailed back in February last year, there was great excitement amongst pupils that the 2021 show was to be the fantastic 1970s rock opera hit, Jesus Christ Superstar. Originally due to be staged this week, Directors, Jess Newborough and Gil Cowlishaw have just announced that this year's College production is to be a world first, a completely virtual production. In agreement with the rights holders the College is recording individual virtual performances that will be edited together to produce a show. If all goes to plan, the 'show week' will be from Thursday 1 to Thursday 8 April 2021, with tickets being sold to stream the show as often as you like during the week. Due to the strict copyright laws, the production will then be taken down, never to be seen again!
It promises to be highly entertaining, featuring a number of classic rock musical numbers including Gethsemane, I Don't Know How To Love Him, Everything's Alright and of course the powerful anthem Superstar.
The cast, many of whom have developed as performers in the annual musical productions over the last five years include Kyran Vaughan as Jesus, Megan Shipton as Mary Magdalene, Robyn Field as Judas, James Maclean as Pontius Pilate, Greg Burford as Caiaphas, Mary Lomas as Annas, Chloe O'Carroll-Bailey as Peter, Charlotte Fitzpatrick as Simon Zealotes, Roualeyn Alford as King Herod and Toby Convey, Elsie Kelley and Ignash Librowski as the High Priests with another 15 pupils involved in the chorus and dance routines.
Jesus Christ Superstar is a particularly challenging show as it is completely 'through-sung', meaning that there is no dialogue between the songs. Pupils have done an incredible job of learning their parts, and Keira MacRae has led weekly dance rehearsals on Zoom to teach the team the choreography she has devised.
Gil Cowlishaw, Director of Music, explains, "In 'normal' times, we would have never been allowed the opportunity to make a movie musical. In January, when the school's closed again the easy thing to do would have been to admit defeat but that is not how we do things at Princethorpe. The Music Department has proved that virtual performances can work, with enough hard work from all involved, so we decided to make plans for an entirely virtual production of the show. We were given permission from the rights holders, who confirmed that this has never been attempted before, and then checked that the cast were still up for it and of course unanimously, they were."
It is sure to be super spectacle, so watch out for details of how to get tickets to the show. In the meantime good luck to everyone involved as you record your performances.