Extreme Reading Is No Challenge For Year 7
05 Oct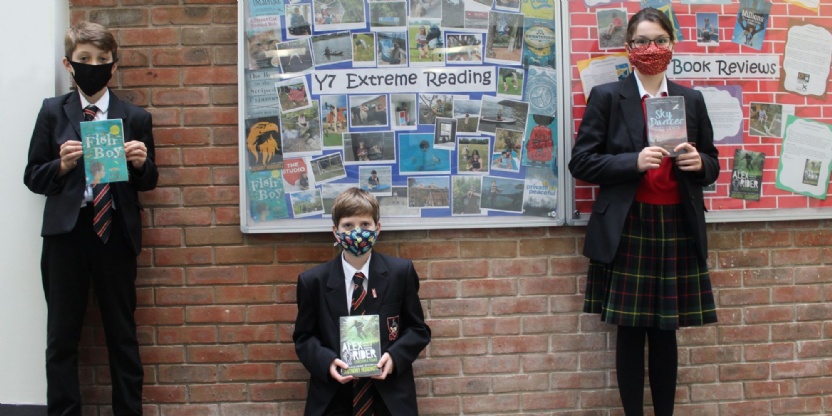 Over the summer holidays pupils joining Year 7 took part in an exciting Reading Challenge. Their task served two purposes, engaging and encouraging their literacy skills but also acting as an introduction to Microsoft Teams, an important learning platform used by the school.
Extreme Reading was all about choosing an unusual or odd place to read a book and the new Year 7s proved most inventive. Pupils read books whilst canoeing, up climbing frames, in the car and in the countryside. They read on horseback, underwater, up trees, on mountains, by the beach and in their gardens. We had readers with rabbits, with alpacas and one reader who even read with a dinosaur! There was no end to their creativity. They recorded their exploits with a picture that was then uploaded to Teams.
Pupils then completed an assignment, a choice of writing tasks that included a letter to the author, a further chapter to the story or a piece of writing exploring a scene, they also posted brief book reviews and read the reviews that their new classmates had submitted.
There were so many ingenious entries that staff at the College were astounded. Their heroic reading efforts have been celebrated here in school in a fascinating display in The Limes. Pictured here are three of the resourceful readers: Soren Wasley who read Fish Boy by Chloe Daykin, Alex Lloyd who read Crocodile Tears by Anthony Horowitz and Alexa Holland who read Sky Dancer by Gill Lewis.
Assistant Head of Teaching and Learning, Dr Liz Pyne, who set the challenge said, "I was so pleased with the efforts and ingenuity of our new Year 7s who tackled the task so enthusiastically. Seeing the photos appear through the holidays brightened up my summer and I am sure they enjoyed the experience too. Their desire to read and share recommendations for books was infectious. Plus, they all engaged with Teams, a tool that will help facilitate their learning here in school."
Well done Year 7 you did brilliantly with your extreme reading and learned that books aren't just for classrooms – you can read them anywhere!