Year 11 Celebrate With Thanksgiving Service
21 Jun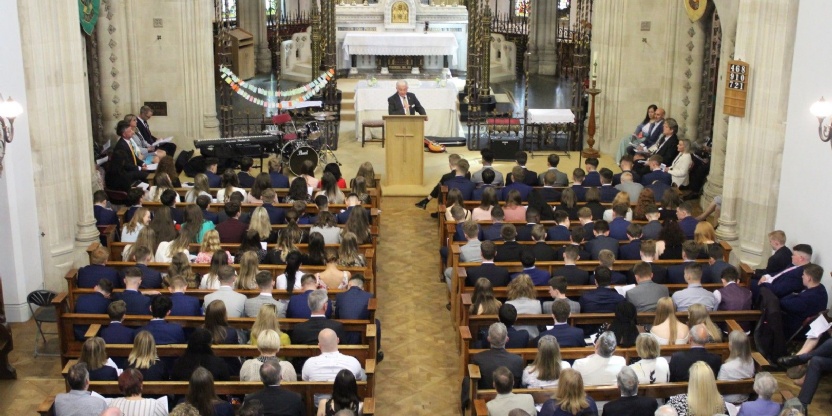 For Year 11 Friday 21 June was an important day. With their public examinations finally completed, the pupils and their families returned to the College to celebrate the end of their GCSE year.
Over four hundred guests attended the Thanksgiving Service held in the College Chapel. Father Alan Whelan MSC welcomed them all and opened the service with a hymn. A number of staff, including Heads of House and members of the Senior Leadership Team, gave emotional readings that reflected the aspirations the College holds for their future. The mood was one of celebration and optimism for the journey ahead. A plea for continuing kindness and generosity of spirit underpinned all the messages in the speeches.
In his reflection, Father Alan spoke of the infinite and lasting impact education has on our lives and challenged Year 11 to believe in themselves and to use their talents and qualities to make a difference.
Mrs Beth Sharpe, Pastoral Deputy Head, thanked the parents for their support of the College and read a moving extract from a Denis Waitley poem Roots and Wings. Ed Hester, Headmaster, continued the thanks to the parents before inviting them to join with staff for refreshments after the service.
As friends, families and pupils trickled out of the Chapel to the Sixth Form Lawn to catch up, dish out hugs and enjoy a fine spread for lunch, there was a buzz of excitement ahead of next Monday evening's all-important Year 11 Prom!
It was a wonderful day of celebration and we wish all the Year 11s a relaxing summer break before they move on to their next exciting chapter.