Year 7 Fascinated By Famous Author Frank Cottrell-Boyce
03 Apr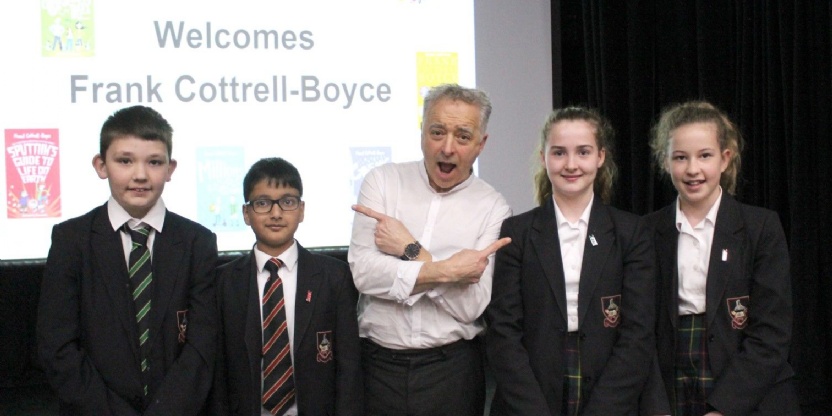 On International Children's Book Day, Tuesday 2 April, and as part of Stratford Literary Festival's Schools Week, Princethorpe College was delighted to welcome into school award-winning author and screenwriter, Frank Cottrell-Boyce.
Frank's first children's book, Millions, won the CILIP Carnegie Medal, and was made into a film by Danny Boyle. His latest book Runaway Robot has just been published and his book Sputnik's Guide to Life on Earth is being made into a film by DreamWorks. Frank was the official scriptwriter for the Opening Ceremony of the 2012 Olympics and is also a judge for BBC Radio 2's 500 Words, a short-story writing competition for children aged five to 13 years.
During a magical afternoon, Frank spoke to Year 7 pupils, discussing the inspiration behind his books, such as Millions, Cosmic and The Astounding Broccoli Boy. He shared stories from his childhood, read excerpts from his favourite books and answered a host of questions from an enthusiastic audience. He explained how the shared experience of a book can make you feel better, how stories can transport you and how he likes writing comedy because he likes to make people laugh.
Frank Cottrell-Boyce was clearly delighted with his appreciative audience and after his talk happily signed copies of his books for the children.
School Librarian, Celia Scott, commented, "We were honoured to have Frank visit Princethorpe, he was so engaging, Year 7 were mesmerised by his stories and bursting with questions. Our thanks go to both Frank and to the Stratford Literary Festival who organised Frank's visit as part of their special Schools Week."