Welford-On-Avon Primary Win High 5 Netball Tournament For Second Year Running
02 Apr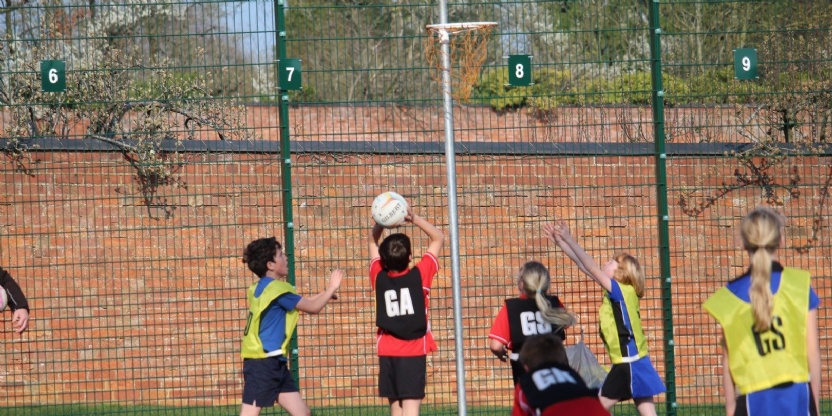 Seven Warwickshire primary school teams took part in Princethorpe College's High 5 Netball Tournament. Defending champions Welford-on-Avon Primary School were joined by Ettington Church of England Primary School, Our Lady's Catholic Primary School, Milverton Primary School, St Mary's Catholic Primary School and two teams from Claverdon Primary School.
The competition took place on Monday 1 April on the College's outside netball courts in glorious late afternoon sunshine. The teams had the chance to test their skills against their opponents in a round robin of matches playing to High 5 netball rules; a popular entry format of the traditional game that has players rotating positions and ensures the ball keeps moving. With vocal support from the side-lines, the children threw themselves enthusiastically into the matches clearly enjoying the competitive nature of the tournament.
Claverdon started well with both teams winning their first round matches, Welford-on-Avon and St Mary's quickly followed suit. Umpired by Princethorpe's Young Sports Leaders, you could see the children's skills developing game by game as they took on board feedback and suggestions. Each team played six 10-minute matches.
Welford-on-Avon played with flair and enthusiasm and finished the competition victorious for the second year running.
Presenting them with the trophy, PE Teacher and Primary Schools Sports Liaison, Hannah Carminati, said, "It was great to welcome so many teams to Princethorpe and to be able to offer these young players the chance to play in a netball tournament. All the pupils were so enthusiastic; I saw great ball work, tremendous teamwork and plenty of energy on court today."
Well done to all of the teams on a super afternoon of sport and thanks also to Princethorpe's Young Sports Leaders, Lily Dyble, Eve Farquharson, Molly Geehan, Sammy Inskip and Anna Wells for their help umpiring all the games.