Outdoor Education Celebrates Pupils' Achievements
12 Mar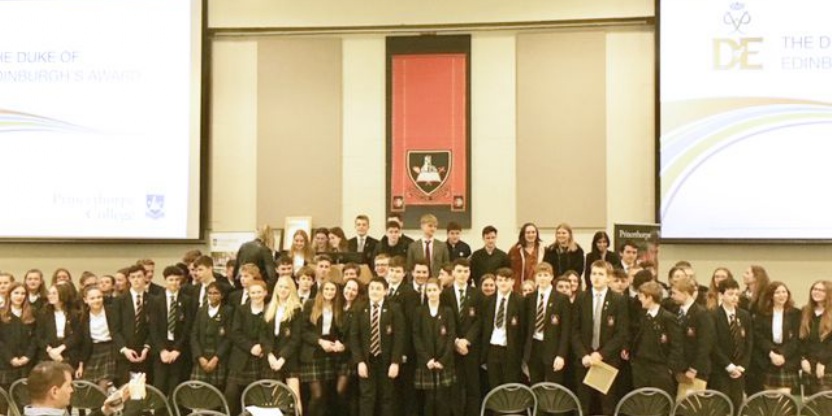 Over 240 pupils, parents, invited guests and staff gathered together on Thursday 7 March at an inaugural event to celebrate the success and commitment of Princethorpe pupils to Outdoor Education. 2017-18 was another exciting year, it included new forays into orienteering, memorable rock climbing, cycling and Camps International trips and a bumper crop of completed Duke of Edinburgh Awards.
Over the year, 142 pupils fully completed their Duke of Edinburgh Awards, with 173 undertaking qualifying expeditions. It is no mean feat to complete an award; along the way, pupils will have had unique experiences, shown initiative, committed hours, improved their fitness and volunteered to help others.
The College was delighted to welcome adventurer, Squash Falconer, as guest speaker at the presentation evening, Richard Lea from our expedition partners Peaks and Rachael Hewison from DofE Central Office. They were all pleased to join us to help celebrate pupils' achievements. The evening also offered a chance to thank all the staff whose commitment make Outdoor Education here at Princethorpe such a success, including Val McFadden, Duke of Edinburgh Award Verifier, Jan Ryalls, Bronze Award Co-ordinator and Julia Lindsay, Silver Award Co-ordinator.
Will Bower, Head of Outdoor Education, began by summarising the year before certificates were awarded to pupils who had taken part in the rock climbing and cycling challenges and who had achieved their Bronze Duke of Edinburgh Awards.
Then in an inspirational speech, Squash spoke about her expeditions and adventures including her trips to Mont Blanc and Mount Everest. She spoke about the determination required, the challenges faced and what keeps you going. She left the audience with the clear message that the Duke of Edinburgh Award has real value in helping to develop young people and that remarkable things are possible with determination and resilience.
After Squash had finished speaking the Silver and Gold Awards were presented, before the evening came to a close with a question and answer session and an opportunity to take photos.
All in all it was a wonderful evening and a fitting way to mark the achievement of pupils in Outdoor Education.
There is still time for those who have not signed off their awards to complete them.