College Feast Day Reminds Us All Of Princethorpe's Spirit Of Family
17 Dec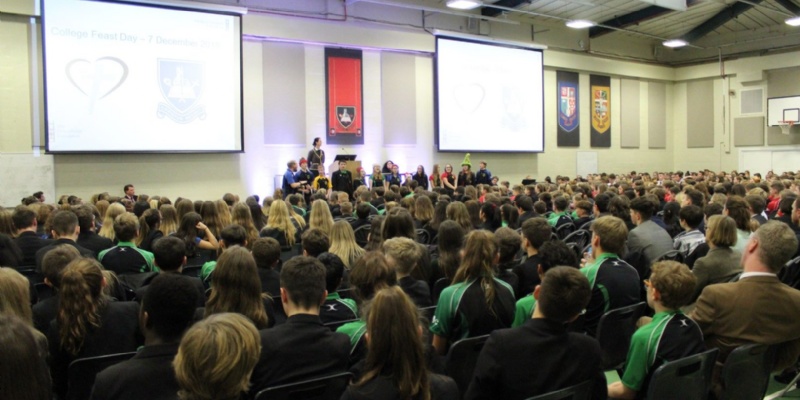 This year Friday 7 December was designated College Feast Day, a celebration involving the whole of the College community, marking the day, 8 December 1854, when the Missionaries of the Sacred Heart were founded. Feast Day allows the College to honour its important link with the MSCs.
In the afternoon the whole school came together in the Sports Hall to mark the anniversary. The ceremony began with the presentation of the House prizes allowing the whole school to recognise pupil progress and achievement.
Then Director of Ethos, Kieran McCullough, reflected on the reasons why we celebrate Feast Day and in particular this year's initiative to put Faith In Action through the donations of non-perishable food to local food banks.
Finally it was time for what has become an important school tradition, the House Singing Competition. Much secrecy had surrounded the House choice of songs and in the run up to the big day the House Activities Co-ordinators had zealously been rehearsing their singers.
In turn the Houses rose to their feet to perform their pieces. First were Austin House who delivered an enthusiastic and strong performance of Abba's Mamma Mia. Benet came next with a joyful, toe-tapping rendition of I Just Can't Wait To Be King from the film The Lion King. Fisher House were next up and confidently belted out We Will Rock You by Queen and then finally More delivered a lively performance of You Can't Stop The Beat from the musical Hairspray.
The competition was judged by professional singer Georgie Mason who was very impressed with the standard. She commented, "I really enjoyed the performances, everyone was singing, there was lots of enthusiasm and good pitch and timing. It was a very difficult decision to make but in the end I have decided that the winner should be Fisher House."
Whilst the judge made her deliberations the College's A capella group performed and then after the winning House was announced the afternoon came to a joyful conclusion with an impromptu performance by the whole school of Band Aid's Do They Know It's Christmas.
Headmaster, Ed Hester said, "Thanks to Director of Ethos, Kieran McCullough, the Heads of House, the House Activities Co-ordinators and all the staff and pupils for wholeheartedly entering into the spirit of the day. This is an important annual event for the College, one that takes time to celebrate Princethorpe's spirit of family."