Costa Rica Proved An Amazing Central American Adventure
14 Sep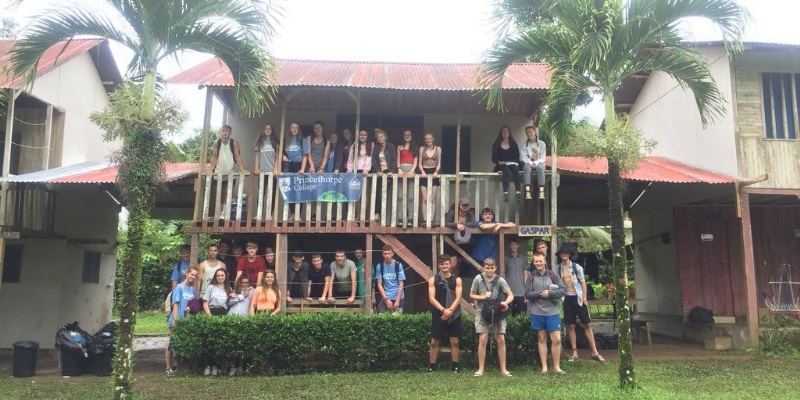 Over the summer, 70 Princethorpe pupils took part in an amazing adventure, a four-week life changing experience, which they will simply never forget. The pupils travelled to Costa Rica with Camps International where they worked on community and conservation projects. Immersed into a completely different culture, they lived and work alongside the local population. They had no choice but to buckle down and get on with some serious grafting and in so doing they gained independence, learnt a lot about themselves and this diverse and fascinating Central American country. It was for all a once in a lifetime trip.
Split into two groups the now Lower and Upper Sixth pupils followed similar itineraries at five different locations. In the south of Costa Rica at Camp Terraba they worked on community projects that included improving sanitation and building a community kitchen. One of the accompanying staff, Charlotte Verleure commented, "In just three days the students excavated an enormous pit 8m3 in size, the local community told us they had never seen anything like it." But the students also had time off to explore the area and enjoyed a riverboat ride to see the wetlands. At Camp Guanacaste, in the heart of the protected Caňo Negro Forest Reserve, the pupils helped make beehives, painted park benches and played football with the local children.
At Camp Pacuare, on the Caribbean coast, it was very wet as it rained non-stop for days. There, their work included environmental projects with beach cleans and work recording turtle hatchlings size and weight. Then, all of the pupils also spent a day in Monteverde where they explored the local coffee, sugar and chocolate industries. They enjoyed taste testing the organic chocolate and helping to make sugar cane juice on their plantation tours. Finally, all the pupils took part in a PADI Open water Scuba Course at Camp Playa Panama on the Pacific coast and put their new skills to good use helping with the construction of an artificial reef in the ocean.
Trip Leader, Faye Roberts, commented, "All the pupils worked hard and I mean hard. The projects were mostly tough manual labour but aside from the donkey-work there was time for fun. Football at the community pitch, cooling off at the beach after a day of hard work or simply making friends with the local children at the park. They enjoyed many bonfire nights at the different camps sharing sweets and resting after long days at work. Our pupils gained so much from the trip, many visibly matured and we are so proud of them all."
Reflecting on their trip of a life time Fenton Woolf, Juliette Carter, Leah Dunkley and Ryan Warwick commented, "It's a cliché but it was a once in a lifetime trip. The work was physical, a lot harder than expected, but it was immensely rewarding to see the projects completed, to know that we had helped build a kitchen for the community and helped provide beehives so they could run their own honey business. Our Spanish improved and we had fun teaching the children traditional English playground games. Seeing the wildlife was incredible. We would very much love to return to Costa Rica when are older."
These experiences could of course never happen without the commitment of College staff and our grateful thanks go to Faye Roberts, Karen Bannister, Toby Harper-Lawrence, Gavin Rooney, Jan Ryalls, Charlotte Verleure and Will Uglow who accompanied the pupils on their adventure.